Stacey Abrams says she can't defeat Brian Kemp in Georgia governor race; will sue over mismanagement of state's election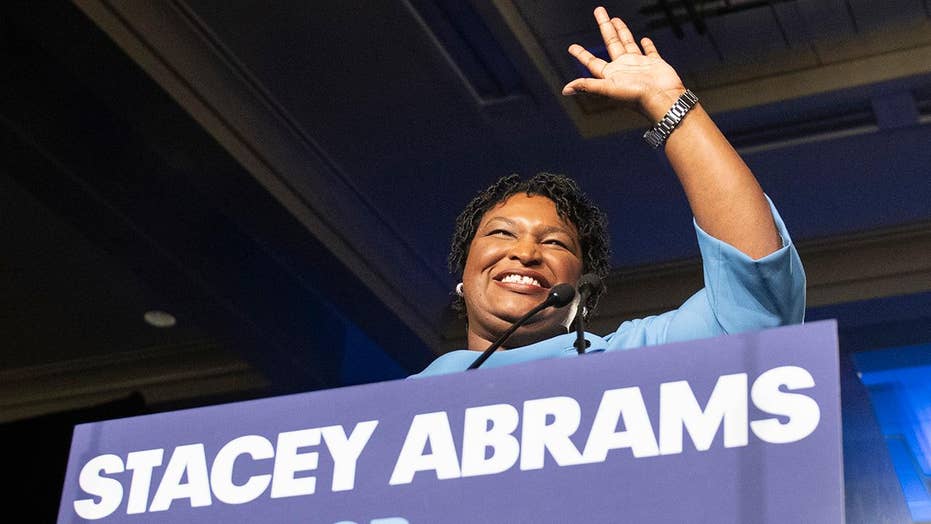 Stacey Abrams says she can't win Georgia governor race
Democrat Stacey Abrams effectively ends her challenge to Republican Brian Kemp; Steve Harrigan reports from Atlanta.
Stacey Abrams, the Democrat in Georgia's governor race, acknowledged Friday that she cannot defeat her Republican opponent, Brian Kemp, but she vowed to file a federal lawsuit challenging the "gross mismanagement" of the state's elections.
Abrams' address to her supporters essentially concluded her bid for the governor's mansion, the final result of which had been in doubt since Election Day, but she noted that she was not officially conceding the race.
While describing a variety of issues at the polls, Abrams said that "the state failed its voters."
"I acknowledge that former Secretary of State Brian Kemp will be certified as the victor in the 2018 gubernatorial election. But to watch an elected official – who claims to represent the people in this state, baldly pin his hopes for election on the suppression of the people's democratic right to vote – has been truly appalling," Abrams said. "So let's be clear, this is not a speech of concession."
"Because concession means to acknowledge an action is right, true or proper. As a woman of conscience and faith, I cannot concede that. But my assessment is the law currently allows no further viable remedy," she continued, before adding that although she could fight to keep the election going, she doesn't "want to hold public office if I need to scheme my way into the post."
Abrams had hoped to become the first black governor of Georgia and the first black female governor of any state.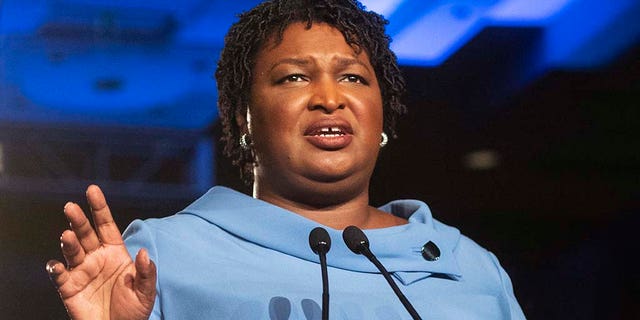 Stacey Abrams acknowledged Friday that she could not defeat her GOP opponent in Georgia's gubernatorial election. (AP Photo/John Amis)
Unofficial returns in the state put Kemp ahead of Abrams with roughly 50.2 percent of more than 3.9 million votes. This standing gave him about 18,000 votes above the threshold required to win by a majority and avoid a Dec. 4 runoff.
Kemp issued a statement following his opponent's announcement, saying she "conceded the race and officially ended her campaign for governor."
"I appreciate her passion, hard work, and commitment to public service," the statement said. "The election is over and hardworking Georgians are ready to move forward. We can no longer dwell on the divisive politics of the past but must focus on Georgia's bright and promising future."
He went on to request that people in Georgia "stand with me in the days ahead."
"Together, we will realize the opportunities and tackle the challenges to come," the statement said. "We will be a state that puts hardworking Georgians – no matter their zip code or political preference – first!"
Kemp, Georgia's former secretary of state, had received the endorsement of President Trump.
Abrams gave her speech, where she also announced her intent to fight back legally," just after 5 p.m. That was the earliest state officials could certify the results after a court-ordered review of absentee, provisional and other uncounted ballots. Abrams' campaign had contended there were potentially enough uncounted votes to force a runoff.
"In the coming days, we will be filing a major federal lawsuit against the state of Georgia for the gross mismanagement of this election and to protect future elections," she said.
Following her announcement, Abrams' campaign sent out a news release that reiterated her comments.
"In her remarks, Abrams outlined the gross injustices Georgians faced when trying to cast their ballots during this election and launched Fair Fight Georgia," the news release said. "This new PAC will pursue accountability in Georgia's elections and integrity in the process of maintaining our voting rolls."
"In the coming days, Fair Fight Georgia will be filing a major federal lawsuit against the state of Georgia for the gross mismanagement of this election and to protect future elections from unconstitutional actions," it continued.
This is a developing story. Please check back for updates. Fox News' David Lewkowict, Alex Pappas and The Associated Press contributed to this report.
Source: Read Full Article