2nd year running, brands take a backseat for Ganeshotsav amid curbs
With a cap on the size of idols, ban on processions and restrictions on devotees visiting pandals, celebrations are toned down for the second year in a row.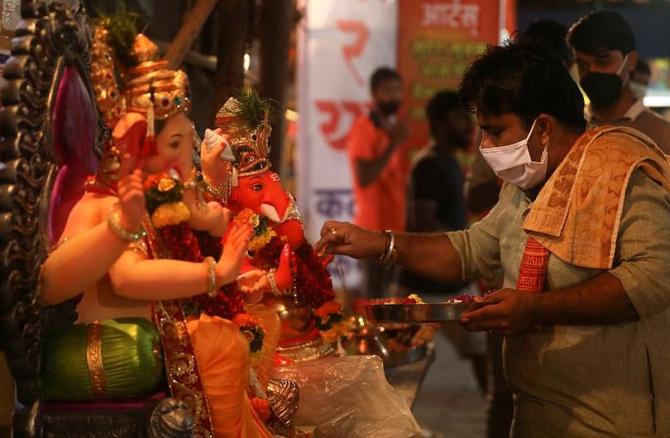 It is Mumbai's favourite festival and is celebrated each year with fervour and frenzy. But when the city welcomes "Ganpati Bappa" this Friday, the celebrations will be low key.
With a cap on the size of idols, ban on processions and restrictions on devotees visiting pandals, celebrations are toned down for the second year in a row.
Festival budgets have shr­unk and as a result, corporate sponsorships have dried out.
"This year, while the situat­ion is much better and many Ganeshotsav pandals have ap­p­­r­oached us, our sense is that devotees will not venture out and will prefer online dars­h­an," says Mayank Shah, seni­or category head, Parle Pro­d­ucts.
"So, we are not spon­soring pandals," he adds.
While the Maharashtra government issued a protocol for the festival towards the end of June, until last week organisers were unclear about various asp­ects such as using loudspeakers or allowing devotees and advertising at the venue.
For brands, this meant added uncertainty.
"We haven't received many requests from mandals this year," says Madhur Pandey, vice president (marketing) of beverage maker Parle Agro.
"None­theless, we are ensuring the visibility of our brands through points of purchase and making our products available in higher numbers in and around areas where we can expect to see visits for Ganeshotsav."
Mumbai has around 12,000 sarvajanik, or community, man­dals celebrating Ganesh­otsav. Around 3,200 of them erect pandals on roads and the rest in housing colonies.
For brands, Ganeshotsav has been a testing ground for new products, and advertisers have used the festive occasion for brand activation campaigns and innovative marketing.
In the past both Parle Products and Parle Agro have showcased idols made from biscuits and Frooti tetra packs at the popular Lalbaugcha Raja pandal.
In pre-Covid times, advertisers would shell out anywhere between Rs 10 lakh and upwards of Rs 1 crore for banners, hoardings or advertising on gate arches at the community pandals.
This time, the response from corporate entities is tepid.
"Maharashtra government has been strict on following Covid-19 protocols.
"It did not allow dahi handi celebrations (also big in the state) on Jan­ma­shtami due to concerns around the third wave.
"Since public participation will be limited during Ganeshotsav, too, advertisers will hold on to their marketing budgets and spend it during the next big festival," says N Chan­dramouli, CEO, TRA Research, a consumer insights and brand analytics company.
Independent brand expert Ambi Parameswaran, however, believes that brands will realign their budgets and channelise advertising spends on television, digital and print medium during Ganeshotsav.
While on-site corporate adv­e­rtising is taking a backseat, companies are planning cust­o­mer engagements at their own out­lets during the festive season.
"The festive spirit of Ganes­hotsav has always helped us drive positive sentiment into holiday demand," says Rajeev Kale, president and country head (holidays), Thomas Cook India.
"This year, too, our strategy is to target the high potential catchments in Maharashtra, and we are doing a series of customer engagements at select outlets across 15 cities, including Mumbai, Pune, Nagpur, Kolh­apur and Nashik."
Each outlet, he adds, will be decorated with a festive ambience and delicacies will be served to customers invited from adjoining areas.
Clearly, the Covid-19 pande­mic has not dampened the festive spirit entirely.
"There was fear and uncertainty last year. That has receded now since a large number of people have taken both the doses of the vaccines," says Naresh Dahibhav­kar, president of BrihanMumbai Sarvajanik Ganeshotsav Saman­vay Samiti, which acts as a coordination committee for pandals across Mumbai.
"Earlier, for the 10 days of celebration, the expenses would be around Rs 25 lakh.
"Last year, it was around Rs 10 lakh, and it'll be similar this year too," Siddhesh Mangaonkar, president of Tar­d­eo Sarvajanik Ganeshotsav Man­dal in south Mumbai.
"There are fewer advertisers and we are relying on voluntary do­nations and contributions from our members," he adds.
They are asking devotees to bring educational material for the needy.
"We are also distributing medicines at a concessional rate to the poor."
Mean­while, the capping of the height of the idols — two feet and four feet for household and community celebrations, respectively — has impacted the business of idol makers.
"The government sho­uld have notified the rules earlier. We receive orders and start our work in January.
"The decision to cap idol height has cau­sed financial loss to us," says Resh­ma Khatu, who runs an idol making workshop in Mum­bai.
For Vile Parle resident Dilip Modak, however, it has been a mixed fortune.
While he has been able to sell over 90 per cent of the idols for household celebrations, there is a slump in or­d­ers for his food catering business: "the orders for 'modaks' have plunged 50 per cent".
E-darshan over pandal visits
Following the new norms, physical events and processions are ruled out.
Online darshan will be the norm as organisers have been advised to restrict the number of people in a pandal to avoid crowding.
For instance, the GSB Seva Mandal in King's Circle has partnered with Reliance Jio to provide online darshan on various platforms.
Source: Read Full Article