Dear Nirmalaji, please boost private investment
On February 1, 2021, Finance Minister Nirmala Sitharaman will present the Budget for the Financial Year 2021- 2022.
Nirmalaji has asked us to send the finance ministry inputs so that the government can prepare an all-inclusive Budget, one that will incorporate the needs of its people.
In a month-long series, A Ganesh Nadar/Rediff.com will speak to Indians across the land about what their expectations from Budget 2021 are.
Tanvi Dubey, 29, is a Delhi-based lawyer. She has been practising law in the Supreme Court of India since the last seven years.
Her father Sanjay Dubey is a lawyer as well while her younger brother has completed his studies in law. Her mother is a home-maker.
"Although my practice is in the Supreme Court, I want to specialise in social welfare in the future. In fact, I am already doing social work."
She owns the home she lives in.
These are her suggestions for the finance minister.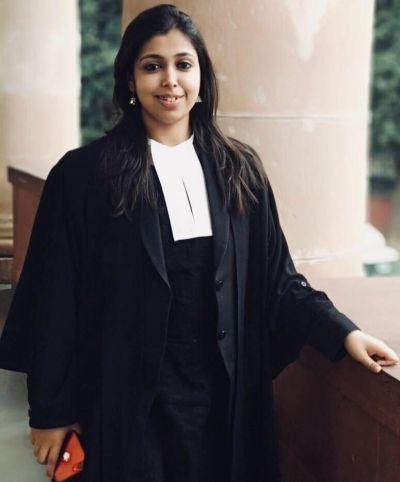 Dear Nirmalaji,
We are in the middle of a pandemic. The only silver lining at the moment is that we are hearing about a potential vaccine.
At the same time, we are also hearing that a new strain of the virus is spreading in the country. And there is still a lot of uncertainty regarding the effectiveness of the vaccine.
The Budget, this year, will be very important and must be a thoughtful decision that considers all aspects of the economy. We need a devoted committee to look into the fiscal target.
There are three investment areas they should concentrate on — healthcare, infrastructure and sustainability.
The emphasis should be on boosting private investment and providing support to employment generation.
The Budget should focus on growth and fiscal management, keeping a three year perspective in mind if not more.
It should decrease personal income tax rates, particularly for those who have been severely affected by the pandemic.
Thank you.
Earlier in the series:
Akansha Dixit, working professional
Himani Zaveri, businesswoman
Sandeep Sharma, banker
K Nishad, driver
Shivraj Ganpatrao Vanarse, newspaper vendor
Rajeev Kumar Singh, security guard
Feature Presentation: Aslam Hunani/Rediff.com
Source: Read Full Article