In a way, pandemic was a boon for Indian e-commerce firms
E-commerce firms like Amazon, Flipkart, Myntra and others witnessed successful festive season sales this year, Experts say e-commerce adoption in the country is accelerating by multiple years or what it would have looked like in 2025.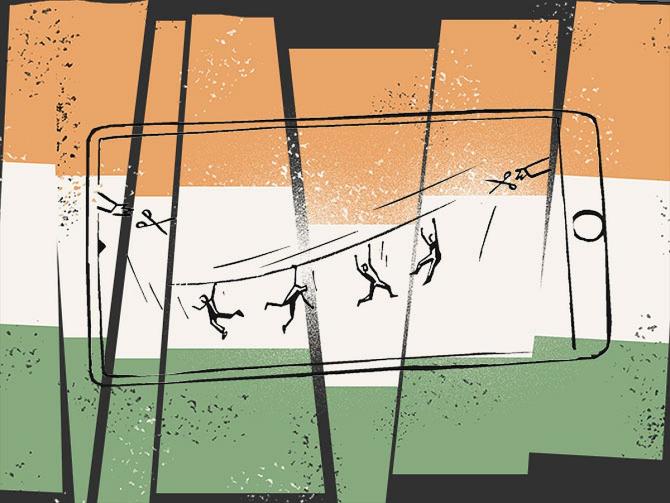 When the "unlock" phase was about to start after the outbreak of the pandemic, online fashion retailer Myntra, owned by Walmart, was preparing for the June edition of its flagship event End of Reason Sale (EORS).
However, every piece of data and report, at that time, was showing how fashion would take more time than others to bounce back.
There was not a single encouraging report about the fashion space then.
"We had two choices, whether to go ahead with EORS or not. We opted to go ahead," said Amar Nagaram, chief executive of Myntra.
"It turned out to be a very good call because we literally opened up the fashion industry in this country.
"Brand partners started seeing a ray of hope. Our bet on the latent demand and consumers coming back to the platform was validated."
After initial hiccups, the pandemic has accelerated the shift to e-commerce in 2020, as more consumers are shopping online.
Experts say e-commerce adoption in the country is accelerating by multiple years or what it would have looked like in 2025.
EORS witnessed a record-breaking number of visitors at 15 million on its opening day, registering a massive growth rate of more than 110 per cent over business-as-usual.
The event started with Myntra selling about 3 million items within the first 24 hours.
Myntra's 'Big Fashion Festival', held during October 16-22, also capped its week-long event with 4 million customers shopping for 13 million items across categories.
It clocked two times growth in orders and customers over the previous edition.
In an industry-defining moment, Myntra accelerated its efforts towards onboarding brands under omni-channel integration.
Today, more than 1,800 stores from over 200 brands are part of the network.
After a successful integration during June EORS, this resulted in enhanced shopper experience and higher sales volumes at offline retail stores of partner brands.
The firm built "Myntra-Mall", which is enabling shoppers to experience their favourite brands.
E-commerce firms, including Amazon, Flipkart, Myntra and others witnessed blockbuster festive season sales this year.
India's online festive sale for a month — during October-November — raked in $8.3 billion, including for brands and sellers, up by 65 per cent year-on-year, exceeding forecasts, according to a report by consulting firm RedSeer.
Tier 2 and 3 cities and towns are now a key market for e-commerce companies.
These markets are not far behind metro and tier-1 cities in terms of consumption and style.
The festive season this year saw 88 per cent customer growth from last year, which was driven by over 40 million shoppers from tier-2 cities and beyond.
"Bharat (tier-2, tier-3 cities and rural parts of the country) has been a trend consistently for a long time.
"The festive season is a very good barometer of how e-tailing is evolving and a leading indicator of how the online retail (industry) will look like next year," said Ujjwal Chaudhry, associate partner, RedSeer.
He said the industry had shown very healthy growth this year and expected that to continue at a rate of about 40 per cent for the next five years.
Most of this growth is expected to come from Bharat as e-commerce is making deep inroads into different regions of the country.
With a growing reliance to fulfil daily necessities, Flipkart witnessed a new user growth rate of close to 50 per cent right after the lockdown, with tier 3 regions registering the highest growth of 65 per cent during the "unlock" (July-September) phase.
Consumers in tier 2 and tier 3 regions also spent time on the platform the most, signalling a continuing rise in user engagement and a shift in shopping preferences.
To ensure that first-time users are at ease while shopping, Flipkart introduced capabilities such as a voice assistant in grocery and vernacular interfaces in multiple languages including Hindi, Tamil, Telugu, and Kannada.
As more consumers joined the e-commerce bandwagon this year, a growing preference to shop in their local language was seen.
This year, the adoption of native languages saw a 2.5x increase from pre-Covid to the festive period (January to November 2020).
Vivek Pathak, director at RedSeer, said social commerce, a subset of e-commerce involving social media and supports social interaction, was also becoming significant and expected to contribute at least 5 per cent of the e-commerce market by 2025.
Tech giant Amazon has enabled digitisation of more than 1 million small and medium businesses (SMBs) in India.
This year alone, more than 150,000 sellers have joined its marketplace platform.
Manish Tiwary, vice-president, Amazon India said after Covid, the seller registration went up 60 per cent.
The e-commerce market in India is estimated to grow at more than 40 per cent compound annual growth for the next five years, with a gross merchandise value of online shipments growing from $32 billion in FY20 to $180 billion in FY25, according to the Redseer Shadowfax Logistics Index (RSLI), jointly developed by Redseer and logistics firm Shadowfax.
This translates into about 10.5 billion shipments in FY25, 4X of the shipment volume in FY20.
Experts say direct-to-consumer (or D2C) brands that offer their products directly to customers have emerged strongly this year and are expected to play a significant role next year. D2C brands could have an addressable market of $100 billion in India by 2025, according to a report by Avendus Capital, the investment banking arm of financial services firm Avendus Group.
India is one of the largest retail markets in the world, projected to surpass $1.7 trillion by 2025.
The country has added 80 million online shoppers in the past three years alone to reach 130 million, according to Avendus.
Source: Read Full Article