India Inc opens up purse for employee retention
Since a lot of IT firms did not give hikes last year, employers are now taking steps to incentivise people to retain employees.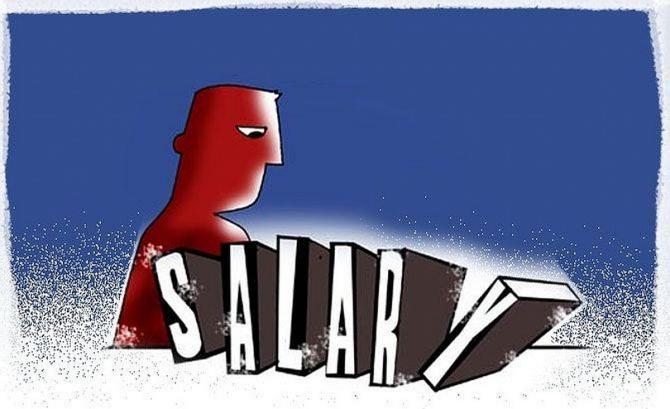 Employees of some top Indian companies were in for a pleasant surprise when they received a mail from their HR team announcing a hike in salaries and bonuses.
Led by IT firms and start-ups, HR managers say that while some have offered cash and stock options, others are in a wait-and-watch mode and add the trend will pick up in other sectors.
For example, IT giant Cognizant — which had an attrition rate of 19 per cent in the December quarter — has established a $30-million employee retention fund in order to bring down the high attrition rate.
This fund will be used to hold back top performers, especially the digitally skilled employees, according to media reports.
Similarly, HCL had announced a one-time special bonus of $90 million earlier this month to employees around the world as it crossed the $10-billion revenue mark.
Other IT majors like TCS, Infosys, and Wipro have also rolled out salary hikes across levels.
Soon after the outbreak, these companies had decided to freeze the wage hike decision as a cautionary move.
However, the improved performance has now prompted them to relook at the decision.
While TCS announced its decision to raise salary for all its employees effective from October 1, Infosys hiked wages across board beginning January.
Wipro too announced salary increments of up to 8 per cent for 80 per cent employees from January.
No wonder, other companies are also opening up their purse for their employees.
"We are committed to providing wealth creation opportunities to all our employees.
"This is the reason why we have committed 5 per cent of our equity ($50 million) towards ESOPs," said BharatPe CEO of Ashneer Grover.
HR managers said since a lot of IT firms did not give hikes last year, employers are now taking steps to incentivise people to retain employees.
"Given the market is hot, the good talent sitting in companies will have options to look at.
"To retain that critical talent, firms are also being proactive in taking care of them," said Anshul Lodha, regional director at global recruitment consultancy Michael Page.
Data collated by rating firm, Care for the December quarter shows that some industries like NBFCs, textiles, telecom-service provider, real estate construction wherein despite the growth in net sales, employee costs have fallen.
This could be as part of the cost rationalization measure undertaken by some companies in that respective industry.
In the nine months ending December 2020, FMCG companies have given incentives to trade, sales staff and dealers who were at the frontline during the pandemic period, offering them insurance, hospitalisation and credit benefits.
Employees have not been retrenched and internship letters to management trainees have been honoured by top companies such as Hindustan Unilever, Dabur, Parle Products, ITC, Britannia, Nestle and Godrej Consumer. Companies such as Asian Paints also announced it was raising salaries of its staff in the June quarter and deposited Rs 40 crore in the accounts of partner contractors and dealers who were not on its rolls.
Analysts say that despite these measures to boost employee and trade morale, staff costs (around 3-4 per cent) have not inflated much in the last three quarters.
It remains within the 3-7 per cent zone, though margins did take a hit for some companies.
In the December quarter, staff cost for Nestle, for instance, was up sharply at 25 per cent YoY mainly due to higher incentives in view of Covid-19.
The December quarter was further impacted due to finalisation of long-term compensation arrangements for most factory employees in line with industry practice.
The result of this was that operating margins expanded just 27 bps YoY for Nestle in the December quarter expect these measures to continue in Q4, undertaken by those companies who've been laggards so far.
Other industry like auto companies did not give any extra incentives but a Hyundai official said it ensured that the salaries, bonus and performance incentives have always been paid on time to its 5000 employees, even during unprecedented business scenarios.
Interestingly, companies are planning to offer additional incentives in the March quarter even as employee cost have registered a growth in December quarter – giving more disposable income in the hands of the individuals resulting in higher consumer spending.
"One needs to note here that companies in certain industries have gone back to their original employee cost structures and have also announced bonus/incentives to employees which has led to an increase in the employee cost in Q3-FY21 vis-à-vis the negative growth in the previous two quarters.
"The matrix below juxtaposes the growth in net sales and employee cost to gauge whether an improvement in net sales has translated into growth in employee cost," says a Care analysis.
The adverse impact on net sales of some industries like airlines, retailing, engineering, hotels/ restaurants have translated into negative growth in employee cost and there was no good news for them till now.
Source: Read Full Article