Women Leaders: A Way To IPO Success?
Indian society may be more advanced than we think it is, notes Ajit Balakrishnan.
As soon as I saw the title of the research paper 'How do markets react to women leaders? An IPO (initial public offering) investigation', I felt irritated.
Why do researchers have to sing the same song about how under-represented women are in leadership roles in India, be it in politics or in business or in the social sector? Why do we need one more lament in this vein?
But as I started reading the summary at the beginning of the paper, it had what was for me an astounding conclusion: 'The results show that … investors … subscribe more to IPOs of firms with women representation in top and senior management roles.'
How could that be, I wondered. Not a day goes without me noticing at least one headline like 'Gender inequality is a pressing issue in Indian society', or 'India ranked 113 on the Gender Gap Index (GGI) among 135 countries … according to the World Economic Forum'.
The issue of how badly Indian society treats women seems to be such a big one that Wikipedia even has a section devoted to it titled 'Gender inequality in India'.
I dug deeper into the paper to discover how exactly the authors had come to their conclusion: 'Our dependent variable is oversubscription which measures the demand for the IPO by considering the number of times an IPO issue has been subscribed by investors. It captures whether total demand for the shares of the IPO firm is greater than the supply of the number of shares floated in the IPO.'
The paper is authored by Debarati Basu of Shiv Nadar University and Shreyashi Chakraborty of the Greenwich Business School, UK. Both did their PhD from the Indian Institute of Management, Calcutta.
They picked as their dataset 43 IPOs from 20 different industries on Indian stock exchanges during 2017-2018 and 2020-2021.
The key independent variable is the presence of women in the Top and Senior Management Team (TSMT), which takes the value one if there is at least one woman in the top management of the firm, and zero otherwise.
Their other independent variables include firm age, size, revenue growth, issue size, issue price, lot size, IPO quality rating, the number of lead managers handling the issue, industry, and year.
The authors correctly point out: 'Since there is no regulatory mandate, the likelihood is that if women leaders are appointed to the top and senior management positions, they are offered such positions because of their skills, competences, and experiences.'
Further, the authors conjecture: The '(presence) of women in senior management teams sends a signal that the firm adopts and (practises) the principles of equity and merit and focuses on empowerment of women employees.
'More importantly, the presence of women is expected to reduce risk, increase conservatism, moderate the probability of fraud, and increase integrity, ethics and morality in decision-making … As the presence of women in senior management teams is not mandated by Indian regulatory bodies, their presence sends a stronger signal of commitment towards responsible policies and practices.
'Hence, investors will see the presence of women in top management teams favourably.'
How did I stumble upon this research paper?
For that I must thank the folks at the National Institute of Securities Management (NISM) for co-opting me into a committee to pick the winners of research papers submitted to their International Capital Markets Conference in mid-December last year.
The shortlisted research papers were from IITs (Bombay and Roorkee) and IIMs (Ahmedabad, Bangalore, and Indore) among other elite Indian and international institutions.
When I ranked this paper as the top among the nearly two dozen shortlisted ones, I did wonder whether the other judges (mostly NISM faculty) too would have done so, and I was gratified that everyone else did.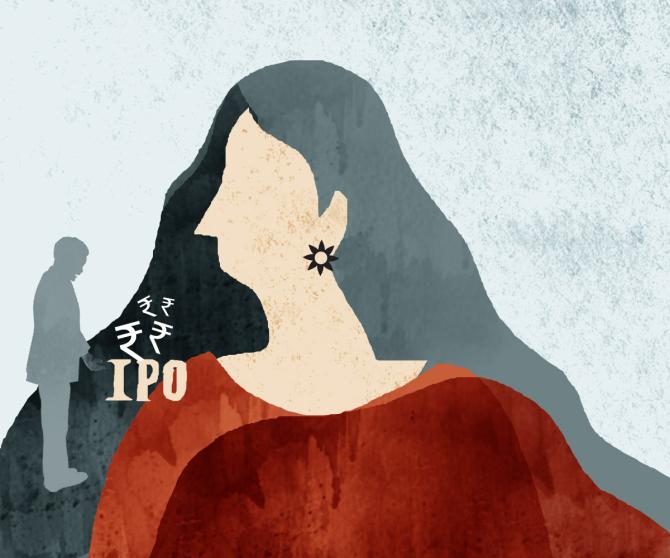 A little deeper thought tells me that, indeed, women are at the top in India's financial sector: Madhabi Puri Buch (chairperson of the Securities and Exchange Board of India), Arundhati Bhattacharya (a recent head of State Bank of India), Shikha Sharma (a recent chief executive officer of Axis Bank) are some examples.
And if we extend our search for women chief executive officers (CEOs) to areas outside finance, we have examples of wildly successful women entrepreneurs: Kiran Mazumdar Shaw (founder and CEO of Biocon) and Falguni Nayar (founder and CEO of Nykaa).
And casting our eyes internationally, we have Indra Nooyi (former CEO of Pepsi).
And what is astounding is that all these women have made it on their own merit, with no family connections to take them there.
And, of course, the person who heads the ministry of finance is Nirmala Sitharaman.
Maybe we Indians have buried deep inside us an innate respect for women as responsible mother figures.
Remember Mother India, the 1957 film directed by Mehboob Khan and starring Nargis in the lead role and which is believed to be among the all-time Indian box-office hits, where its lead character has been seen as a representation of Indian women who reflects high moral values and are ready for any self-sacrifice for the sake of society?
Isn't it true that what a society rejoices about reveals its true values? And celebrating the success of women in Indian higher management augurs well for Indian society?
Ajit Balakrishnan ([email protected]), founder and CEO, Rediff.com, is an Internet entrepreneur.
Source: Read Full Article