Analyst says his downgrade of Walgreens 'one of the more painful experiences' in his 15-year career
An analyst copped to incorrectly calculating how Amazon would be able to compete with drugstores.
Evercore ISI analyst Ross Muken wrote Tuesday he is downgrading Walgreens, "ending one of the more painful experiences I have endured in my 15 [plus] years as a sell-side analyst."
Muken says Amazon's PillPack acquisition created an argument against Walgreens "that will be difficult to disprove or at best take years to unwind."
Walgreens isn't the only one feeling the pressure of Amazon's PillPack acquisition, as one Wall Street analyst copped to underestimating just how aggressively the e-commerce giant would disrupt drugstores.
"We are downgrading shares of Walgreen … ending one of the more painful experiences I have endured in my 15 [plus] years as a sell-side analyst," Evercore ISI analyst Ross Muken wrote Tuesday in a note titled "Getting off pain train."
Evercore ISI lowered its rating of Walgreens shares to in-line from outperform, with Muken saying the firm was "really struggling to put together a coherent thesis on why" Walgreens should outperform the market after Amazon's $1 billion PillPack acquisition. Muken says the acquisition created an argument against Walgreens "that will be difficult to disprove or at best, take years to unwind."
"How does one actually get improved returns here? That's ultimately the question we could not answer and thus we are moving to the sidelines," Muken said.
Amazon also quietly launched a private label of over-the-counter drugs called Basic Care in August — which is at least 20 percent cheaper than CVS' and Walgreens' products, according to Jefferies analysts in a note July 6. Following the PillPack acquisition revelation, Jefferies also downgraded Walgreens shares, just as Walgreens announced results from its most recent quarter.
Muken began Evercore's buy rating on Walgreens on Jan. 4, with a price target of $80 per share. The company was a "perfect candidate" to break out this year, Muken wrote at the time, saying Amazon-related fears were "overdone." Walgreens has since fallen more than 10 percent, as of Tuesday's open of $63.25 per share.
Walgreens stock is up 0.5 percent in the past month, having dropped as low as $59.07 in trading on June 28.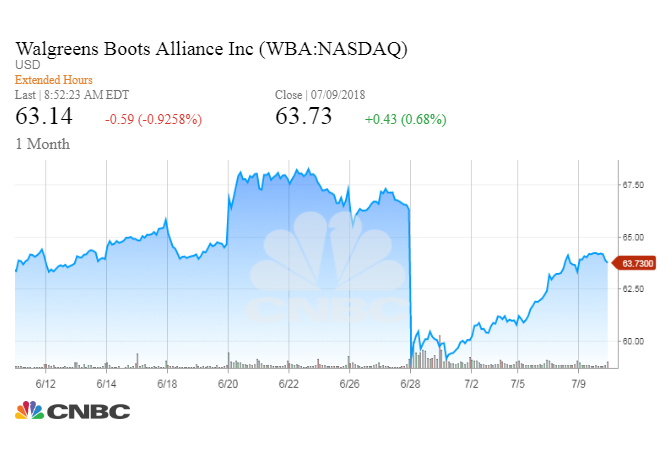 — CNBC's Angelica LaVito and Christina Farr contributed to this report.
Source: Read Full Article