The 'epicentre of the downturn': Sydney housing slump to last until at least 2020, say economists
Sydney's property market slump will last at least another two years as tougher lending standards and buyer nerves weigh on prices.
That's the consensus from a Bloomberg survey of 15 economists, over a third of which have turned more pessimistic within the last three months.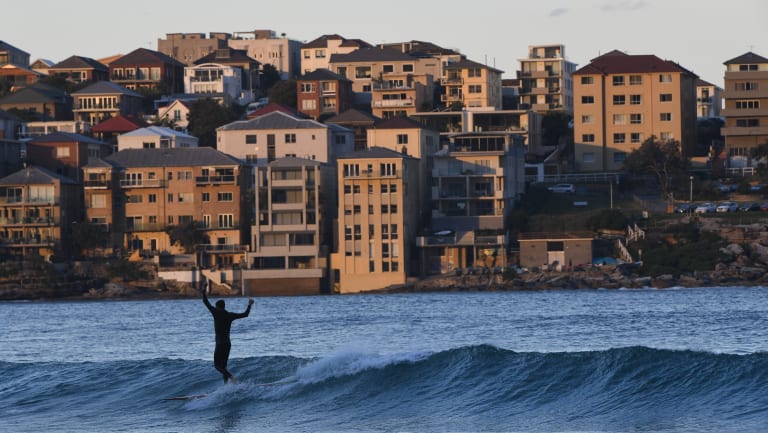 Sydney house prices are tipped to continue slumping.
Prices Australia-wide have fallen for nine straight months as the housing boom goes into reverse. Sydney, where affordability is most stretched and investors had the biggest influence, is being hit hardest: values in the harbour city are down 4.5 per cent in the past year compared to 0.8 per cent nationally.
"Sydney is at the epicentre of the housing market downturn," said Stephen Roberts, an economist at Laminar Capital.
"Much of the decline in house prices seems to be related to housing investors and the tightening of lending standards."
Sydney's slump is poised to deepen, with the median peak-to-trough price fall estimated at 10 per cent compared to 5 per cent for the country as a whole. Still, the data conceals a considerable range of views: while three economists forecast falls of 15 per cent in Sydney, two see declines of less than 7 per cent.
Just three of the 14 economists who supplied a time frame believe prices in Sydney will begin to rise again in under two years. The rest predicted it would be at least two years before any price increases, and even then most suggested values would flatten after 2020 rather than rebound.
"Given regulators' desire to see stability in the house price-to-income and debt-to-income ratios, we think it will be some time before house prices start to move again," said Sally Auld, chief economist for Australia at JPMorgan Chase & Co.
The biggest single factor weighing on house prices is credit availability, according to the survey. Regulators have gradually tightened curbs on riskier loans, such as interest-only mortgages, while also enforcing stricter expense and debt verification for borrowers.
It is not the only factor, with weak wage growth, higher utilities prices and an already high debt burden also affecting prices, says NAB's chief economist Alan Oster.
The ongoing banking royal commission could put further pressure on the market, with Oxford Economics' Sarah Hunter says if new regulations are introduced, it could lead to a "larger correction."
The key takeaway from economists: the "fear of missing out" is now over. And while predictions are for a relatively soft landing, it's time for the market to adjust to a new normal.
Bloomberg
Source: Read Full Article