Supply chain bottlenecks, labor shortage holding back US economy, Fed's Beige Book says
Omicron variant will 'dampen' the economy: UBS managing director
UBS managing director and senior portfolio manager Jason Katz weighs in on the impact the omicron variant will have on the economy amid inflation and supply chain issues.
Supply chain bottlenecks and a worsening labor shortage threatened to undermine the U.S. economic recovery from the coronavirus pandemic this fall, according to a new Federal Reserve report. 
In its region-by-region roundup of anecdotal information known as the Beige Book, the Fed reported that while economic activity increased at a "modest to moderate pace" in most of its 12 districts during the October through November period that the report covers, growth was hindered by severe disruptions in the global supply chain and a lack of available workers. 
WHERE IS SURGING INFLATION HITTING AMERICANS THE HARDEST?
"Several Districts noted that despite strong demand, growth was constrained by supply chain disruptions and labor shortages," the Fed said. "Outlooks for near-term economic activity remained positive, overall, but some Districts noted increased uncertainty and more cautious optimism than in previous months."
FILE – In this Sept. 30, 2021, file photo, Federal Reserve Chairman Jerome Powell testifies during a House Financial Services Committee hearing on Capitol Hill in Washington.  (Sarah Silbiger/Pool Photo via AP, File / Associated Press)

The Beige Book also found that prices rose at a "moderate to robust pace" in most districts, an increase fueled by rising demand for consumer goods and raw materials. Cost increases were widespread across industries and were largely driven by demand for raw materials, logistical challenges and labor market tightness. Strong demand generally allowed businesses to raise prices with little pushback from customers. 

In some cases, the widespread availability of inputs – notably semiconductors and certain steel products – actually led to the easing of some price pressures.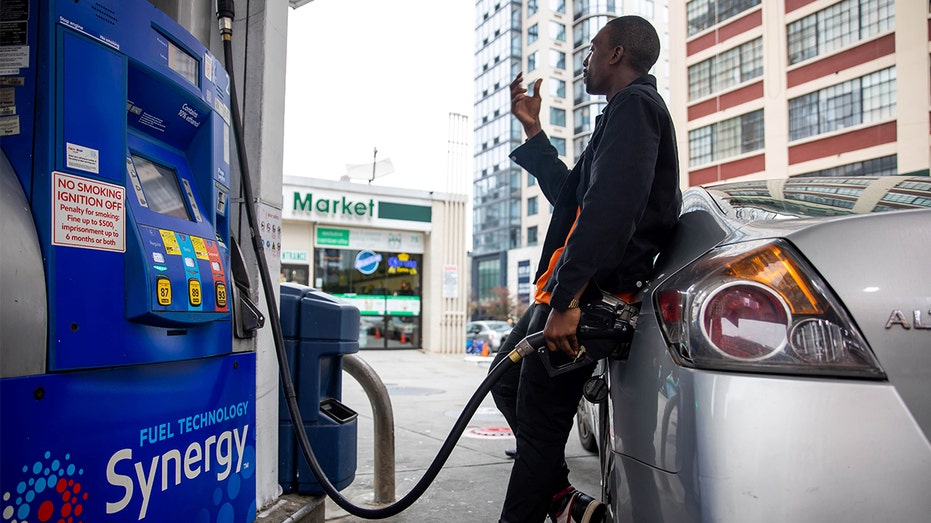 A man fuels a car at a gas station in New York, on Oct. 13, 2021. (Xinhua via Getty Images / Getty Images)

Inflation has accelerated as the economy recovers from last year's brief but extremely severe recession. Jerome Powell, the chairman of the U.S. central bank, has largely attributed the spike in consumer prices to pandemic-induced disruptions in the supply chain, a shortage of workers that's pushed wages higher and a wave of pent-up consumers flush with stimulus cash.

But he has shifted his stance in recent days, telling lawmakers on Wednesday that the risks of higher inflation have "moved up," and that the Fed is considering speeding up the reduction in its monthly bond purchases to combat rising consumer prices.

GET FOX BUSINESS ON THE GO BY CLICKING HERE

"At this point, the economy is very strong, and inflationary pressures are high," Powell said while testifying before Congress. "It is therefore appropriate in my view to consider wrapping up the taper of our asset purchases, which we actually announced at our November meeting, perhaps a few months sooner."

Source: Read Full Article