Whatever's on the menu, Trump's diplomacy is a dog's breakfast
The B&B is a great British institution, but I have never been a fan of the "full English Breakfast".
Two soft boiled eggs are the go for me these days, but it can be surprisingly complex to order in contemporary London, where I was this week. Young people from all over Europe have flocked to London to pick up work.
I was discussing the importance of breakfast with my two travelling companions, Louise and Charlie, when a plate of bacon and eggs cooked "over well" arrived.
President Donald Trump responds to a reporter's shouted questions as he walks with British Prime Minister Theresa May at the conclusion of their joint news conference at Chequers.
"They're mine," said Charlie. "I'm with President Trump when it comes to breakfast. Apparently, the Donald doesn't usually eat in the morning but when he does he can't stand runny eggs."
Trump got on well with the Russian President who apparently likes to start the day by downing raw quail eggs in a shot glass.
With a visit from Trump, the British PM was trying to avoid eggs, especially on her face.
But enough about breakfast and eggs for the moment.
It's been a strange fortnight in the world. It began with Trump giving his NATO allies a lecture about increasing their defence spending to at least 2 per cent of their GDP. It's hardly going to happen, even though he immediately claimed that he had won the day.
Two per cent of GDP is a signifiant figure even though it is smaller globally than my old industry of advertising and marketing.
Trump turned NATO into something of a dog's breakfast, when he then proceeded to mess with the already messy Brexit. First he effectively called Theresa May a hopeless negotiator with little chance of being able to do a deal with anyone, especially him, and then finally he said that Britain could do a "tremendously big deal" with the US following Brexit.
But having upset and confused the European defence leadership plus the UK PM and her government, Trump wasn't finished. His afternoon tea with Queen Elizabeth II led to further disruption with him not bowing to the Queen, walking ahead of her at a military parade inspection.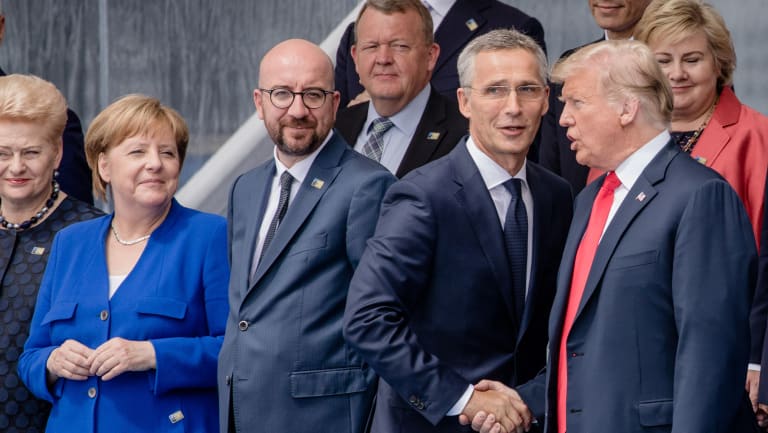 Jens Stoltenberg, secretary general of the NATO, second right, shakes hands with US President Donald Trump as Angela Merkel, Germany's chancellor, second left, Charles Michel, Belgium's prime minister, second left, watch.
"Tut tut," muttered Charlie. "No wonder the Queen's Charles didn't want to be there."
The theme of disruption continued at a lunch I had with the First Minister of Wales Carwyn Jones, although the Welsh story is less chaotic than both Brexit and Trump. This small land of 3 million people, known for their miners, singers and rugby playersm closed its last coal mine in 2008. Who would have thought?
Now it's all about renewables including wind power plus a big push to build wave power generation using the great forces of the Atlantic Ocean off their coast.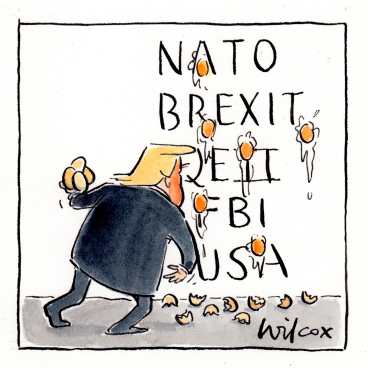 Illustration: Cathy Wilcox
But Brexit is a big problem for Wales and is typical of the turmoil the UK is in. Wales is part of the scrambled egg of Europe as it adjusts its economy to new industries. One of them is making parts for the Airbus A380 which are shipped to France for final assembly. Brexit puts all of this in doubt as the First Minister told me. Indeed, how do you undo a scrambled egg? The fact is you can't.
Having blown up Brexit, Trump moved onto his Turnberry Golf course in Scotland while I was still there. The Trump family has owned this golf course since 2014 and has racked up gigantic losses ever since.
My advertising background tells me that his visit was probably the world's biggest advertorial – a well-known marketing technique of creating an event to achieve news coverage that acts as paid advertising without a dollar passing hands.
And then it was Finland and President Putin, who seemed to have converted the President to raw quail eggs.
I'm not sure where all of his undiplomatic diplomacy is leading us. However, I do know that the world economy will not improve with the threat of building bigger northern hemisphere military forces and breaking up trade alliances.
Back to breakfast and how do you have your eggs.
The world is one gigantic omelette that's made from and by all of us. There's no going back to individual yokes.
But the eggs are critical, you must have them.
Louise tells me about her Ukrainian niece who, as a five-year-old, got into trouble when she started bouncing her ball against the wall of the chicken coup.
"Ne nalekate kyrei (don't scare the chickens)" yelled her father from the back door. He was worried about their productivity and their ability to feed the family.
You see, if you scare the chickens they'll stop laying the eggs. No eggs, no omelette, no world.
As a born and bred New Yorker, the President clearly doesn't have a clue about such things.
A week away has convinced me yet again that we are very lucky to be Australians in Australia.
Source: Read Full Article