Former Obama Officials Are Riding Out The Trump Years By Cashing In
The last 18 months have been difficult for former members of the Obama administration. They've been replaced by a regime, which, in the words of former Domestic Policy Council director Melody Barnes, "shows virtually no respect for constitutional principles, or often, basic human decency." And now they can do little more than complain about their successors' parade of outrages.
"Our democracy is under attack," warned former Attorney General Eric Holder. Former Assistant AG Lanny Breuer called the Trump administration's immigration agenda, "contrary to the core values of this nation." Conscientious public servants "cannot stay silent," wrote former Department of Homeland Security Secretary Jeh Johnson, who also said President Donald Trump's separation of migrant children from their asylum-seeking parents is "immoral and un-American." Former White House spokesman Jay Carney worried about "the country's credibility" under Trump. "Donald Trump is sort of to politics what Bernie Madoff was to investment," according to ex-Agriculture Secretary Tom Vilsack. His birth control policy, said Obama campaign manager David Plouffe, is "unconscionable."
And yet for all the damage the Trump administration is doing to American democracy, several prominent Obama alums seem to have quietly made their peace with a subtler attack on the legitimacy of U.S. institutions. Today, many are lending the prestige of their White House resumes to scandal-fraught organizations in return for large sums of money. Some are even doing business with the Trump administration.
Plenty of former Obama officials are leading scholarly lives as academics, working with nonprofits or in sectors of the corporate world far from the purview of their previous duties in Washington. Obama spokesperson Eric Schultz told HuffPost that Obama "implemented unprecedented ethics rules, including cracking down on the revolving door by prohibiting former lobbyists from working on issues on which they lobbied, and by preventing appointees from lobbying the White House after working there."
Schultz added that "President Obama's White House was the first in modern history to not have a major scandal."
None of the officials named in this article would comment on the record.
These days, Johnson receives $290,000 a year to serve on the board of directors at Lockheed Martin, the largest American defense contractor and the world's biggest weapons manufacturer. It has been fined over $767 million for various forms of misconduct since forming in 1995, according to the Project on Government Oversight.
Directors of large corporations are nominally responsible for pretty important stuff: setting executive compensation, managing risk and generally ensuring that a company's management acts in the best interest of its shareholders. But American corporate governance has been weak for decades. In practice, serving on a board means attending a few meetings a year and collecting paychecks. The Lockheed Martin board met nine times last year.
Lockheed Martin sells rockets, missiles, bombs, "guided projectiles," "laser weapon systems," "integrated surface warfare," fighter jets, attack helicopters and drones, along with tech support, systems operation and various training programs. All told, the company does $35 billion a year in business with the federal government, much of it contracted with the very department Johnson recently headed. The company's sales are rising along with Trump's defense budgets.
Johnson has been publishing opinion pieces in The Washington Post on DHS policy of late, presenting his cache as Obama's DHS Secretary as a relevant credential. The pieces have not disclosed the fact that he works for a defense contractor that stands to profit from DHS business.
Barnes is also working at a defense contractor, earning upwards of $210,000 a year serving on the board at Booz Allen Hamilton, which held eight meetings in 2017. Barnes, who recently penned an op-ed for The Hill calling "to build an inclusive, multicultural democracy that provides opportunity, community and security for all" through "community wealth building," has been working for the firm since 2015. Last year, the company announced it was the subject of a Department of Justice criminal investigation over irregularities in its government billing and accounting. According to the Center for Responsive Politics, in 2016 and 2017 alone, the company received $63 million in contracts to work with Immigration and Customs Enforcement ― the militarized deportation agency at the heart of the Trump administration's family separation scandal. Booz Allen Hamilton revenues are up almost 15 percent since Trump came to town.
Ride-sharing titan Uber also hired Barnes in May 2016 in an apparent effort to clean up its image as a stream of Uber scandals began to dominate headlines. Roughly eight months after she joined a new policy advisory board at the company, a major sexual harassment scandal broke, and Barnes has remained at the company as it has weathered a barrage of subsequent debacles far removed from her role, including the improper seizing of an alleged rape survivor's medical records in an apparent attempt to discredit her accusations.
Uber seems to have been a preferred landing pad for Obama officials. Former Transportation Secretary Ray LaHood joined Barnes on the policy advisory board, and Obama's 2008 campaign manager David Plouffe worked as a senior vice president at the company from August 2014 until January 2017. He was fined $90,000 by the city of Chicago for illegally lobbying the city's mayor, Rahm Emanuel, while working for Uber. Emanuel, who served as Obama's first White House Chief of Staff, has distinguished himself as mayor by covering up the police shooting of Laquan McDonald.
Uber has also paid Holder for various legal work. After the sexual harassment story became front-page news, Uber commissioned Holder to conduct a study and issue a report detailing problems with the company's workplace culture and management approach.
As attorney general, Holder refused to prosecute Wall Street crime related to the 2008 financial crisis, even as banks agreed to pay billions upon billions of dollars in settlement after settlement with the federal government. Even in cases where major banking institutions pleaded guilty to felony charges, Holder and the DOJ declined to prosecute any actual bankers for crimes.
So it makes a perverse kind of sense that Holder is now a partner at the law firm of Covington and Burling, a D.C.-based outfit that specializes in work on behalf of the banking industry. In a remarkable interview with MSNBC's Chris Hayes this April, Holder downplayed the significance of financial misconduct, suggesting that law enforcement agencies have more important things to deal with.
"There's a lot of crime that happens I think generally that doesn't get reported ― people are stealing things out of grocery stores, people are doing things in banks that they shouldn't be doing," Holder said. "But when it comes to the things that are truly consequential that are truly important, I think that law enforcement … generally holds people to account."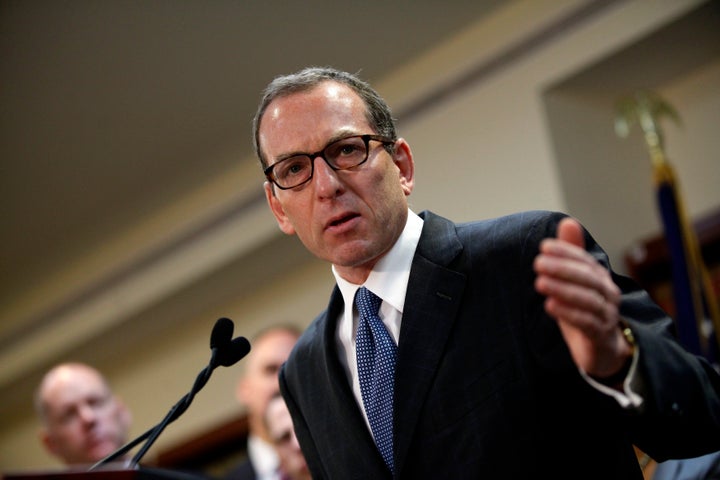 Breuer, who was in charge of DOJ's criminal division during the Obama years, is also a partner at Covington and Burling. He currently spends his time "helping clients navigate financial fraud investigations, anti-corruption matters, money laundering investigations, securities enforcement actions, cybercrime incidents, Congressional investigations, and other criminal and civil matters presenting complex regulatory, political, and public relations risks," according to the firm's website.
Obama's first Securities and Exchange Commission Chair Mary Schapiro has also found her way into Wall Street's good graces. She now advises financial firms for the consulting firm Promontory Financial Group, and serves on the board of Morgan Stanley ― an investment banking behemoth that has settled 24 separate allegations of misconduct with the federal government since her departure from the SEC. This includes a multibillion-dollar case for defrauding investors with toxic securities during the financial crisis. Schapiro just started at Morgan Stanley and her compensation hasn't been disclosed, but according to a recent SEC filing, the bank's directors receive between $338,333 and $378,333 a year. The Morgan Stanley board met a total of 16 times last year.
Former Treasury Secretary Timothy Geithner, meanwhile, is now president of the private equity firm Warburg Pincus, which owns Mariner Finance, an installment lender that targets poor families with high-interest loans. A devastating Washington Post story published last week detailed the case of one Mariner customer who borrowed $2,000 from the firm, only to find himself owing over $3,200 in less than a year, even after making a few payments on the loan. Mariner initially got in touch with the man by mailing him a check for $1,200 "out of the blue," labeled as loan with a 33 percent interest rate.
Former Agriculture Secretary Tom Vilsack is now advocating for some of the country's biggest dairy interests, including Schreiber Foods, Sargento, Hershey and YUM! Restaurants (better known as KFC, Taco Bell and Pizza Hut), as president of the U.S. Dairy Export Council.
Ex-White House Chief of Staff Pete Rouse is now chair of the Public and Strategic Affairs Group at the law firm of Perkins Coie, where he, "provides policy analysis and offers strategic advice on navigating Congress and the executive branch" and "counsels senior level executives on federal and state policy issues and related public communication challenges." Such activity is known to the general public as "lobbying," but ― conveniently ― does not need to be described as such for legal purposes.
And then there's Carney. Prior to Trump's election, perhaps no American in the 21st century had displayed greater ingenuity when attempting to discredit legitimate journalism than the former White House spokesman. Carney worked for Time magazine as a political editor before joining the White House, and he joined Amazon as a senior vice president in March 2015 after leaving the administration in the summer of 2014. When the New York Times ran a story detailing a host of problems with Amazon's harsh workplace culture, Carney authored a lengthy reply on Medium publicly challenging the company employees quoted in the story (why Amazon thought this would contribute to an image as a supportive employer was not clear) and accusing the Times of journalistic malpractice.
Big, prestigious corporations just didn't do this sort of thing at the time. Read Carney's piece and ask yourself if the final paragraph doesn't read like a memo from Sarah Huckabee Sanders. It's a masterpiece of innuendo and half-truth, of molehills presented as mountains and unsubstantiated accusations. Carney even attacked lead reporter Jodi Kantor by name, devoting nearly 400 words to a narrative suggesting that her months of communication with the company for the story were really just an underhanded campaign of deception.
The Times stood by their story, and a month after Carney published his piece, Amazon spontaneously announced it would be implementing a more generous maternity leave policy. Kantor went on to share the 2018 Pulitzer Prize for National Reporting for breaking the Harvey Weinstein sexual misconduct story.
This isn't a full accounting of everything everyone in the administration has done since leaving office. Holder is chairing a the National Democratic Redistricting Committee to combat gerrymandering, for instance, while Barnes is vice chair of the Thomas Jefferson Foundation that oversees Monticello.
And elite Washington is comfortable with what it calls "the revolving door" ― the movement of government officials into lobbying, contracting or consulting jobs where they can exploit government connections for profit. It's not considered a particularly admirable career path, but it is nevertheless accepted as a normal part of life in the nation's capital. 
But much of what passes for normal in Washington is considered grotesque in the rest of the country. If the Trump administration weren't bumbling between different crimes against humanity, it's hard to imagine anyone getting nostalgic for the era when these folks ran the free world.
Source: Read Full Article