A Mystery Congressional Candidate Asked Russian Intelligence For Dirt On Their Opponent
A little more than halfway through the new 29-page indictment handed up by the grand jury investigating Russia's interference in the 2016 election is an intriguing tidbit: An unnamed congressional candidate reached out to Russian intelligence operatives posing as a hacker named Guccifer 2.0, seeking dirt on their opponent.
The outreach came on Aug. 15, 2016, after it was clear Guccifier 2.0 ― whom the indictment identifies as part of GRU, a Russian Federation intelligence agency within the Russian military ― had hacked the Democratic Congressional Campaign Committee.
The Russian intelligence operatives responded to the request with information related to the candidate's opponent, according to the relevant portion of the indictment, pictured below: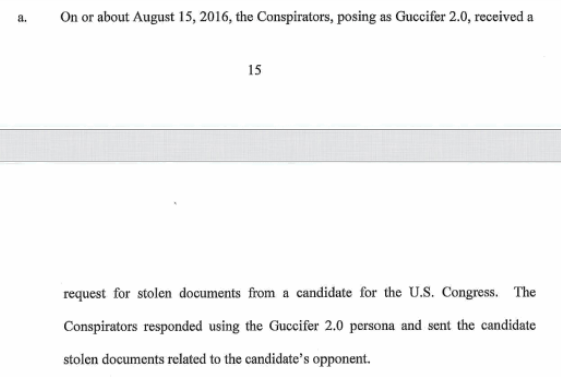 Special counsel Robert Mueller's team didn't reveal who the candidate was, and while several GOP congressional candidates benefited from the DCCC hack, the details don't quite match up with previously reported incidents.
One name that has come up is Pennsylvania GOP Rep. Ryan Costello. The operatives posing as Guccifer leaked documents revealing that Costello's Democratic opponent, Mike Parrish, was not the top choice of national Democratic operatives to challenge the Republican. The documents, which were leaked to The Hill and the subject of an Aug. 23, 2016, story, showed DCCC operatives attempting to recruit another Democratic candidate into the race. 
But Costello's team said it opted to not use the damaging material ― he was a heavy favorite to win re-election.
"When news broke that this material had likely been stolen by a foreign actor, we immediately said, 'We're not going to use it,'" Vince Galko, a strategist who worked for Costello, told The Atlantic earlier this year. 
Costello's congressional communications director, Natalie McLaughlin, had a blunt response when asked if Costello was the candidate who reached out to Guccifer 2.0: "Absolutely not."
The other candidates to benefit from the DCCC hack were clustered in Florida: GOP Reps. Carlos Curbelo, Ron DeSantis and Brian Mast. But the information on their opponents appeared to be posted independently by Aaron Nevins, a Florida lobbyist and journalist.
Nevins is mentioned in the next paragraph of the indictment as the "then-registered state lobbyist and online source of political news" who received 2.5 gigabytes of data stolen from the DCCC, including "donor records and personal identifying information for more than 2,000 Democratic donors."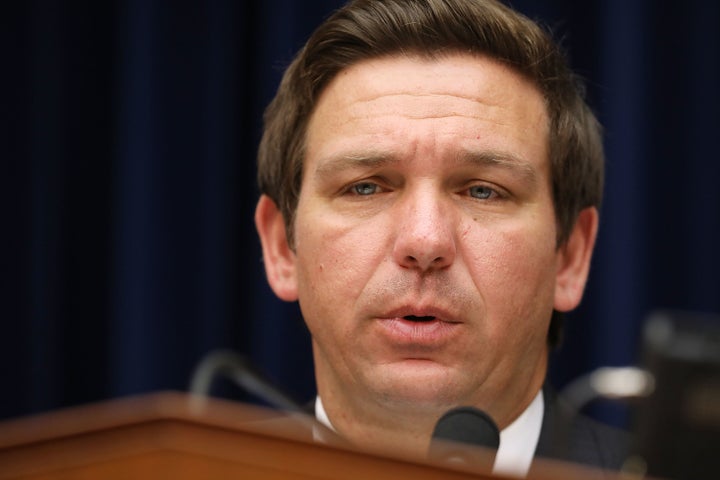 The data Nevins received from Guccifer was extremely valuable, and contained information on the two candidates running in a primary to challenge Curbelo. An operative for Mast admitted to The Wall Street Journal he adjusted his strategy after the leaks. "I did adjust some voting targets based on some data I saw," Mast consultant Anthony Bustamante said. 
Florida GOP consultant turned #NeverTrump talking head Rick Wilson pointed a finger at Mast as the candidate mentioned in the indictment. A spokesman for Mast denied any contact with the hackers: "Congressman Mast and his campaign 100 percent did not have any contact with Guccifer."
A spokeswoman for Curbelo issued a similar denial and added that Curbelo hoped the Justice Department would reveal who the candidate who requested the information was.
"Neither he nor anyone on his campaign has ever contacted any foreign agent to request illegally obtained documents or information," Curbelo spokeswoman Joanna Rodriguez told the Miami Herald. 
DeSantis, who represents a safely Republican district in north Florida, is now running in the GOP primary for Florida governor with President Donald Trump's endorsement and has repeatedly tried to end special counsel Robert Mueller's investigation. He's also denied any contact with Guccifer 2.0.
The publicly available trail of breadcrumbs ends there. There are no other indications of who the candidate who requested the information could be. House Speaker Paul Ryan's office says it doesn't know anything beyond what's in the indictment, and Democratic operatives are similarly baffled.
Kevin Robillard is a senior political reporter for HuffPost. Do you have information or theories on the mystery candidate? Reach Kevin at [email protected]
12 Russian Intelligence Officers Indicted In Mueller Investigation
The Top Bombshells In Mueller's Indictment Of Russian DNC Hackers
Source: Read Full Article