New Yorker magazine recognizes staff's union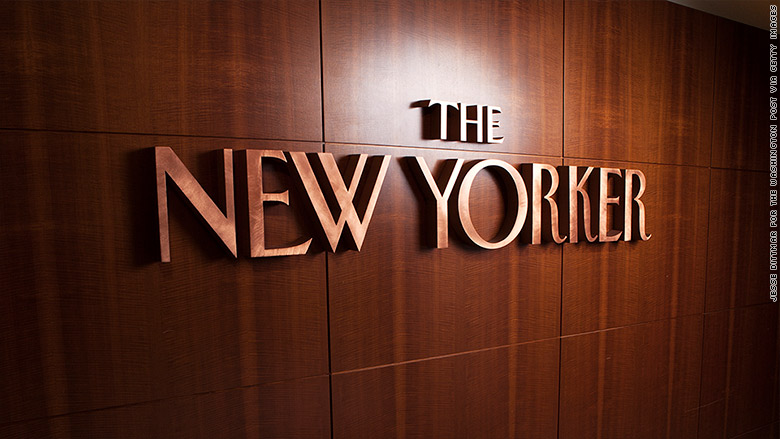 A little more than a month after staffers at The New Yorker declared their intention to form a union, the magazine's top editor said that management won't stand in the way.
In a note to employees on Monday, David Remnick struck a message of unity in describing a constructive negotiating process with the NewsGuild, the union with which magazine staffers organized.
"After a series of productive conversations over several weeks between our representatives and the NewsGuild, we have agreed on a process to voluntarily recognize the New Yorker Union," said Remnick, who has served as editor of the New Yorker since 1998. "We're in this together. The work we set out to do every day is more important than ever."
The news comes as a welcome development to New Yorker staffers, who had waged a spirited organizing campaign over the last month, using social media and a slick website to promote the union. CNNMoney has reached out to the New Yorker Union for comment.
It may also come as a relief for Remnick, a liberal stalwart who may have lost esteem from his ideological brethren if Condé Nast, the New Yorker's parent company, had fought the union.
The magazine has a history of anti-labor activity, having successfully staved off a union drive in the 1970s. But in asking for voluntary recognition from management — a necessary step in order to avoid an election administered by the National Labor Relations Board — the NewsGuild boasted that nearly 90% of New Yorker staffers had backed the union.
In their letter to management announcing their intentions last month, the staffers pointed to a host of problems related to compensation, and said the magazine is "vulnerable to competing priorities from our corporate parent, Condé Nast," which also owns Vogue, Vanity Fair and GQ.
"Salaries often vary significantly among people who hold the same position, and we have seen a steady stream of our colleagues leave for jobs that provide more tenable wages," the staffers said in the letter. "Some of us have worked for years as subcontracted employees, without health insurance and other basic benefits, though we do the same jobs as the staff members who sit beside us."
Remnick sought to break down some of those divisions in his note on Monday with an expression of togetherness.
"We mean to tell the truth, to be accurate, to be fair and humane," he said. "Each one of us, I know, is dedicated to safeguarding the values, integrity, and health of The New Yorker, and to producing work of the highest caliber."
Source: Read Full Article