State Rep. Jason Spencer Refuses To Resign After 'Who Is America?' Tirade
State Rep. Jason Spencer (R-Woodbine) has said he will not resign from the remainder of his term in the Georgia House, despite many calls for him to do so after a wild appearance on Sacha Baron Cohen's "Who Is America?" Sunday night.
Spencer was featured on the show shouting a multitude of racial epithets, including the word "n****r," and brandishing his naked buttocks. He was doing so ostensibly as part of an anti-terrorism training video meant for elected officials to learn how to protect themselves from terrorists, created by Baron Cohen disguised as an Israeli terrorism expert, Col. Erran Morad.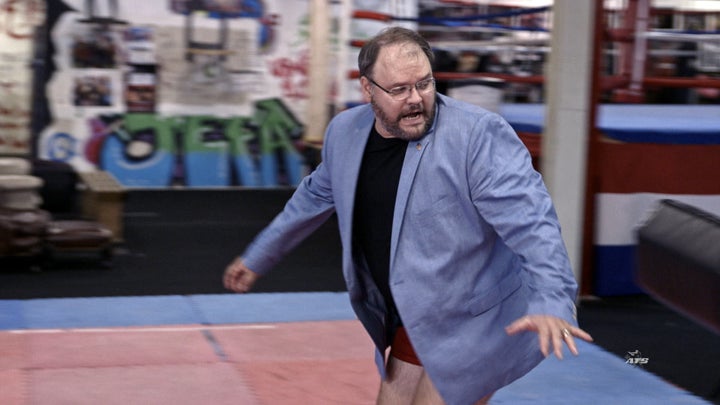 Since the airing of the show, many people have called for his resignation. The Georgia chapter of the Council on American-Islamic Relations asked for his resignation, saying, "Enough is enough," and Georgia House Speaker David Ralston (R) asked for the same, saying, "Georgia is better than this."
Georgia Gov. Nathan Deal (R) called Spencer's behavior "appalling and offensive."
Despite widespread condemnation, Spencer told The Washington Post that he "was not thinking clearly nor could I appreciate what I was agreeing to" and that he "will finish the remaining five months at my post and vacate my seat." Spencer ran for re-election but lost his primary bid in May.
The full statement he sent to the Post:
In 2017 I received countless death threats in connection with my introduction of legislation involving the wearing of masks. The threats escalated to the point that my wife received threatening phone calls concerning her and my children. I was very afraid for my safety and the safety of my entire family.

Then, on June 14th, a gunman opened fire at members of Congress on a baseball field. I knew people on that field. Now, the fears I already had became more intensified as the reality of my family being targeted by a similar, deranged, would-be assassin became even more possible. I was in such a poor state of mind that my wife and I also undertook marriage counseling with a licensed therapist during this time.

Sacha Baron Cohen and his associates took advantage of my paralyzing fear that my family would be attacked. In posing as an Israeli Agent, he pretended to offer self-defense exercises. As uncomfortable as I was to participate, I agreed to, understanding that these 'techniques' were meant to help me and others fend off what I believed was an inevitable attack.

My fears were so heightened at that time, I was not thinking clearly nor could I appreciate what I was agreeing to when I participated in his 'class.' I was told I would be filmed as a 'demonstration video' to teach others the same skills in Israel. Sacha and his crew further lied to me, stating that I would be able to review and have final approval over any footage used.

I deeply regret the language I used at his request as well as my participation in the 'class' in general. If I had not been so distracted by my fears, I never would have agreed to participate in the first place.

I apologize to my family, friends, and the people of my district for this ridiculously ugly episode. Finally, there are calls for me to resign. I recently lost my primary election, so I will not eligible to hold office next term. Therefore, I will finish the remaining five months at my post and vacate my seat.
Spencer's office could not be immediately reached for further comment.
Source: Read Full Article