'Adani has deep pockets…'
'Adani can attract vessels at a much lower cost to Vizhinjam as he has the financial muscle to do so.'
Kerala Chief Minister Pinarayi Vijayan has described the international deep water multipurpose seaport at Vizhinjam as a 'game-changer' for the state's infrastructure and development and said it aimed to handle one million containers annually, surpassing even Singapore.
The CM's tweet came as Zhen Hua 15, the first ship arrived at Vizhinjam port on Thursday, October 13, 2023.
The vessel, that arrived carrying cranes from China, was given a water salute by the tug boats which pulled the vessel into the Rs 7,700 crore (Rs 77 billion) deep-water international port, PTI reported.
Zhen Hua 15, which began its journey from China at the end of August, was scheduled to dock at Vizhinjam on October 4, but its journey was delayed by bad weather conditions along its route.
The Kerala government last month had said that three more ships would arrive in October and November to the port which is expected to be commissioned by May next year.
The government had also said that 75 per cent of the breakwater construction is also complete.
Vizhinjam port is being constructed under the public-private partnership model. Adani Group is the private partner in the development of Vizhinjam port, which is going to be one of the largest ports in the world once commissioned.
The project, which was scheduled to be commissioned in 2019, got delayed due to several issues related to land acquisition.
Vizhinjam had witnessed violent protests as fishermen in the area opposed the project, alleging that the port could adversely affect their livelihood. There are also environmental concerns surrounding the construction and operation of the port.
"Adani will be a good agency to operate the port mainly because around 30% of India's port capacity is already being operated by them," Dr Jose Paul, former acting chairman, JN Port, Mumbai, and former chairman, Mormugao Port Trust, Goa and adjunct professor, Indian Maritime University, Chennai, tells Rediff.com's Shobha Warrier in the concluding part of the interview:
PART 1: How Vizhinjam Port Can Change India's Shipping Fortunes
Do you feel Vizhinjam will be on par with, and compete with the neighbouring transhipment ports like Colombo or Dubai or Singapore?
I feel Vizhinjam has got high competitive strength when compared to Dubai, Singapore or Colombo.
In all these ports, a heavy amount is being spent on dredging, but Vizhinjam will be able to save that.
As a result of which, the port charges at Vizhinjam will be much lower than the above mentioned ports.
There is no environmental hazard for ships to get anchored there. As the port is situated at the southern tip of India, the weather conditions are reported to be quite favourable for large container vessels to anchor and carry out their loading/unloading operations.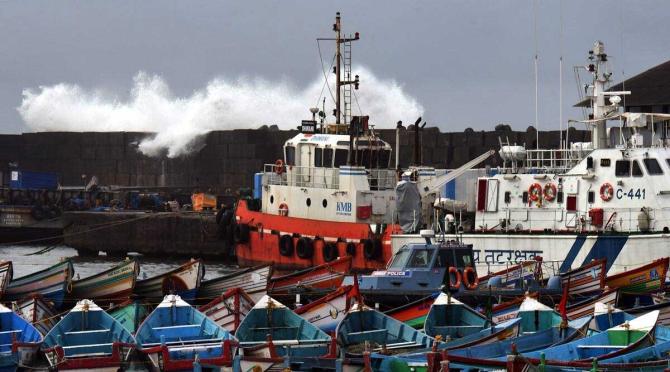 So, do you see a world class transhipment port to come up in Vizhinjam?
Yes, it can be a world class transhipment port because of its strategic location.
Let's assume a ship is coming from the largest port in Europe — Rotterdam through the Atlantic Ocean and the Mediterranean Sea and passes through the Suez Canal.
When it comes down from the Suez Canal to go to the east, you will find Vizhinjam to be on the ideal sea route.
Next is the 20 metre depth of water in the port which will be comfortable for even the largest container ship in service.
Third point is, since no dredging is required, the amount of money saved for the maintenance of the port could be used to lower port tariff when compared to all other competing ports.
Fourth thing is, Kerala has a huge talent pool of IT professionals. In fact, you will find a sizeable number of Keralites working in the Colombo, Singapore and Dubai ports.
As Vizhinjam will be able to give excellent IT support, the competitive edge of Vizhinjam will be much higher than the other ports.
As Colombo is the closest to India, it is the number one competitor. They handle 7.2 million boxes a year and 70% of their annual container traffic is contributed by the Indian sub-continent.
So, if there is an efficient deep water competitive port available in India, this cargo of about 5 and a half million boxes will not go anywhere except to an Indian port.
So, the game of survival for Vizhinjam as a transhipment port is bright and promising.
Should such an important and natural port be in the hands of a private individual?
A port is a national asset. So, the ownership of a port will always be with the government. Remember, I have used the word, ownership.
Assume you own a house in Chennai but it is not necessary that you yourself should live in it; you can give it on rent. But it doesn't mean that you cease to be the owner of the house.
Similarly, a port can be owned by a government agency and be allowed to be operated by a private agency for more efficient operation.
This is exactly the pattern and practice that are followed in the US, Europe and the other Asian countries.
The same would be the case with Vizhinjam. Who is going to operate the port?
Neither the Kerala government nor the central government. Adani group is going to do that.
I can say, Adani will be a good agency to operate the port mainly because around 30% of India's port capacity is already being operated by them.
Moreover, Adani has deep pockets. It means, he can attract vessels at a much lower cost to Vizhinjam as he has the financial muscle to do so.
Once the traffic consolidates and stabilises, he will be able to raise the rate. Only a good private agency can do such strategic market interventions.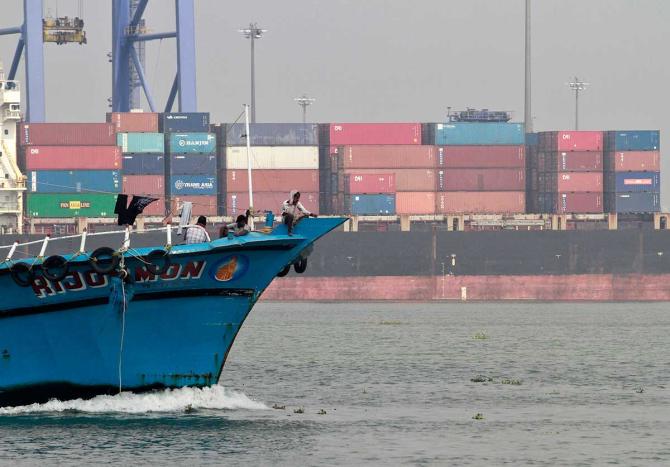 Do you feel they should have developed Vizhinjam earlier itself in place of Vallarpadam in Kochi?
I think the thought was very much there at that time, but then the difficulty was that Kochi was already an existing major port and was also closer to the international shipping route.
Developing an entirely new port with heavy capital investment was considered a difficult proposition at that time.
Moreover, very large container ships with deeper draught appeared in international shipping only during the last two decades.
20 years ago, Vizhinjam was a fishing hamlet. So, it did not offer much promise as a transhipment port.
Moreover, more than 25 years ago, the size of the container vessels were around 5,000 to 6,000 TEU capacity.
At that time, the transhipment operations were on a much lower scale. So, an investment on an absolutely greenfield site at Vizhinjam was not found viable then.
But today, the situation is different because the largest ship on service has 24,000 TEU capacity and the ships size may go even higher necessitating an advance planning to construct a modern transhipment port.
That was when the discussions started we, in India should have a hub port where all mother vessels can come and comfortably do all the temporary loading and unloading operations, the feeder vessels will be employed to distribute containers to regional centres.
These development led to the prominence of Vizhinjam as a transhipment port.
Is it viable to have two ports, Vizhinjam and Vallarpadam in close proximity as transhipment ports?
Yes, this question was raised by many in the business community.
Vallarpadam has been functioning as a transhipment port from February 2011. The question was what would happen to Vallarpadam when Vizhinjam becomes operational in 2024?
Are there prospects for two transhipment ports to co-exist when the distance between them is only 180 nautical miles?
My answer is, Port Klang and Port of Tanjung Pelepas in Malaysia co-exist within a distance of about 150 nautical miles, Jebel Ali and Abu Dhabi in the UAE are within 81 nautical miles, and Tacoma and Seattle in the US are within 33 nautical miles.
Vallarpadam and Vizhinjam can coexist because Vallarpadam can only accommodate container ships up to a maximum of 10,000 TEU capacity while Vizhinjam can accommodate even the ultra large container ships with capacity ranging from 10,000 to 25,000 TEUs or even more.
In fact, these two ports can complement and supplement each other in their respective segments and there need not be any rivalry between these two.
Feature Presentation: Ashish Narsale/Rediff.com
Source: Read Full Article