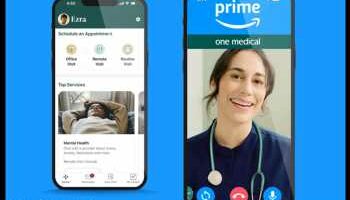 Amazon Announces New Healthcare Prime Membership Program
Amazon.com, Inc. (AMZN) on Wednesday announced a new benefit for its Prime members that provides access to virtual and in-person primary care services through its One Medical platform.
With the acquisition of One Medical in July 2022 for approximately $3.9 billion, Amazon aims to address preventive and immediate healthcare. The usual cost of a One Medical membership is $199 per year, but Amazon has lowered the price for Prime customers for the second time. This new addition is aimed at not only attracting more Prime users but also strengthening Amazon's healthcare connection with shoppers.
This new benefit is available to Prime members for only $9 per month or $99 annually, with the option to add additional members for $6 per month or $66 annually.
The membership includes unlimited access to 24/7 on-demand virtual care that enables customers to have video calls with licensed providers within minutes. Additionally, the membership provides an easy in-app "Treat Me Now" feature that allows fast care.
Moreover, members can book remote or in-person appointments at One Medical primary care offices across the U.S. on the same or the next day. This gives Prime members a much faster and more convenient way of seeing a primary care doctor without having to wait for weeks or months.
Vice president of Amazon Prime, Jamil Ghani, said, "This new benefit is the latest example of how we're making it easier for Prime members to take care of their health."
Furthermore, Prime members have exclusive access to benefits from Amazon Pharmacy, including RxPass for $5 per month, delivering eligible medications to their doors in two days or less. Prime Rx helps save up to 80% on prescriptions at Amazon Pharmacy and over 60,000 pharmacies nationwide.
Source: Read Full Article