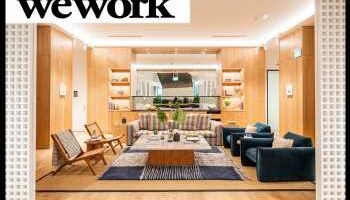 WeWork To Renegotiate Nearly All Its Leases
WeWork Inc. said it is starting a process to renegotiate nearly all its leases as the loss-making flexible space provider tries to fix its financial troubles. As part of the move, the company, which offers workspaces and services, plans to exit unfit and underperforming locations and to reinvest in its strongest assets.
Chief Executive Officer David Tolley in a letter said the company is engaging with its landlords and will seek to negotiate terms that allow the firm to maintain its quality of service and global network, in a financially sustainable manner.
The company, which has been reporting losses for the past many quarters, said its current lease liabilities were over two-thirds of total operating expenses in the second quarter, and still remain too high and are dramatically out of step with current market conditions.
The immediate actions are being taken to permanently fix its inflexible and high-cost lease portfolio to achieve the sustainable operating model.
Tolley said, "WeWork is here to stay. We will remain a global flex space leader and trusted real estate partner to our members. As companies of all sizes seek flexibility in where and how their employees come to work, this initiative best enables us to continue to invest in our products, services, and member experiences to meet evolving workplace needs far into the future."
Meanwhile, the process won't make any changes to its day-to-day operations and it intends to remain in the majority of its buildings and markets, the CEO said.
Regarding the closure of locations, the company plans to promptly inform members and offer alternative arrangements and additional support to minimize any disruption or inconvenience.
WeWork said it has been on a years-long transformation following a period of unsustainable hypergrowth to resize cost structure, grow sustainable revenue and strengthen balance sheet.
In its latest second quarter, WeWork reported a narrower net loss with 4 percent higher revenues. The company's consolidated physical occupancy was 72% at the end of the second quarter, an increase from 70% the same period last year. All Access consolidated memberships grew 21 percent to around 75,000.
Source: Read Full Article