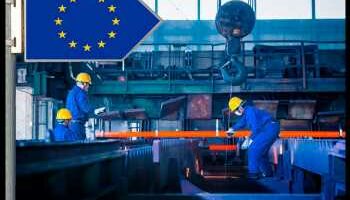 Eurozone Manufacturing Activity Slump On Orders, Production
Euro area manufacturing activity shrunk substantially in October due to accelerated contractions in new orders and production, the purchasing managers' survey results published by S&P Global revealed on Thursday.
The HCOB manufacturing Purchasing Managers' Index, or PMI dropped to a three-month low of 43.1 in October from 43.4 in September. The score was slightly above the flash 43.0.
The index has remained below the neutral 50.0 mark for the sixteenth straight month, signaling a sustained contraction in the sector.
New orders declined at one of the steepest pace in the survey history. Similar trends were observed in the quantity of purchases and backlogs of work. Factory production volumes fell at the joint-second strongest rate since May 2020.
Manufacturers reduced their stocks of purchases and the rate of depletion was the strongest since November 2012. Post production inventories decline was the sharpest in over two years.
Factories tried to reduce cost through job cuts. The rate of job shedding was the most marked since August 2020.
The survey showed that manufacturers remained marginally optimistic towards the 12-month outlook but the level of positive sentiment slid to an 11-month low.
Both output and input prices continued to decrease in October. Factories continued to pass through cost savings via a reduction in prices charged.
"It looks like the eurozone countries are pulling each other down," Hamburg Commercial Bank Chief Economist Cyrus de la Rubia said.
"With France, Italy, and Spain PMIs diving and Germany already signalling a deep manufacturing recession, it is pretty clear that the sector is headed for a contraction in all these countries this quarter," the economist said.
Among major economies, Germany was the worst performer, despite its downturn easing again. At the same time, France registered its strongest contraction in nearly three-and-a-half years. Faster declines were also noted for Italy and Spain.
French manufacturing contracted the most since May 2020. The HCOB manufacturing PMI dropped further below the 50.0 mark in October to 42.8 from 44.2 in September. The flash score was 42.6.
Germany's manufacturing activity contracted further due to a sustained downturn in new orders in October. The PMI came in at 40.8, up from 39.6 in September and the flash reading of 40.7.
In Italy, the manufacturing downturn intensified with output and new orders declining at faster rates. The HCOB factory PMI registered 44.9 in October. The score was the lowest in three months and below September's level of 46.8.
Spain's manufacturing shrank the most in a year. The corresponding index dropped to 45.1 from 47.7 in September.
Source: Read Full Article